Why You Should Live in Hoboken:
Rich in culture, history, and nightlife, Hoboken is a vibrant and growing town. Whether you're looking for an action-packed city lifestyle and Manhattan isn't your thing, or you're a growing family looking for an urban Manhattan sleeper community, Hoboken is the ultimate place to be!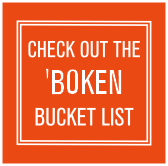 Hoboken is a great place to be if you want to be surrounded and immersed in activities and adventure. Besides its nightlife, there are also running clubs, sports teams, parks, a museum, great waterfront jogging and much, much more.
The property here is affordable which makes it actually feasible to own a car. It's easy to get to, filled with young people and you can be to downtown Manhattan quicker than people in uptown Manhattan (or anywhere else in the city for that matter).


Getting Around Hoboken:
At just one square mile, everything in Hoboken is within walking distance. Start up your "Chevro-legs" and walk around Hoboken for a while. Hoboken makes it easy to live without a vehicle, and still have access to a car when you need one. Cars are available for rent by the hour on a corner near you.
Hop on "The Hop", Hoboken's community shuttle, or take advantage of the brand-new bicycle lanes. The NJ Transit busses are consistent and you can find the bus you are looking for at Hoboken Terminal or travelling north or south on many of Hoboken's thoroughfares. If you're in a rush, there are multiple taxi and limousine services ready for your patronage, and all major highways are easily accessible.
Don't forget, there is light rail, PATH and NJ Transit Trains Ready to take you where you need to be. The ferry is a great way to get to the city, and it's a beautiful and scenic trip across the Hudson River.
Highlights:

Hoboken has everything you want in a big city, scaled down. Enjoy the amenities at a spa, feast at one of the many restaurants, or enjoy a merry night out on the town.

Frank Sinatra was born here, and celebrities still flock to Hoboken to live, rest, and play.
There are Movies under the Stars, the Hoboken Historic Museum, St Ann's Festival, Hoboken Food & Culture Tour, Spring/Fall Arts & Music Festival, and much more. Hoboken is full of activities and events year-round.
Why We <3 Hoboken:
We love Hoboken for the opportunities it poses for our clients. It provides us with all the amenities of being in New York without being in New York. Move to Hoboken and enjoy the view and convenience of it.
There is a lot of development being done in the wonderful city of Hoboken. After Hurricane Sandy ripped through, people have been focused on improving Hoboken. If you thought Hoboken was great now, wait ten years to see the progress made!